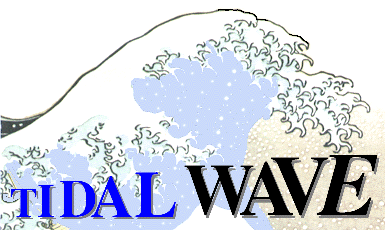 2000
Another season has ended. And what an exciting season it was, with many close games. The final tally shows that there were 12 wins, 12 loses and 12 ties. Further, Tidal Wave scored 37 goals and allowed 37 goals. We were in three shootouts and Tidal Wave won them all. Thank you players, coaches, and parents for a wonderful year.
Check out Tidal Wave 1999
Also check out City Thunder which has nine players from Tidal Wave 2000.
Next Tournament
That's all, folks!
Irvine Cup
Tidal Wave took fourth place in their final tournament of the year. The Irvine cup began with two 1-1 ties against Palisades and San Celemente. Then Tidal Wave lost to Lake Forest 2-1. Since we had exactly the same record as San Clemente there was a shootout to determine who would advance to the consolation game at Irvine Valley College. Tidal Wave won the sootout 3-2 and played Camarillo in the final game losing 2-1.
Strawberry Cup
Things looked up in the finals of the Strawberry Cup as Tidal Wave defeated Wilshire (2-0) for fifth place. Earlier in the tournament Tidal Wave lost to Santa Barbara 1-0, and tied both both North Irvine (1-1) and West LA (0-0).
Tidal Wave Takes First Place in Hi-5 Invitational
Tidal Wave won all of the matches in their pool, defeating Quartz Hill (2-0), Mira Mesa (1-0) and Fountain Valley (2-0). In the Championship game, Tidal Wave defeats Huntington Beach one to zero in a tough but exciting match.
Myles Standish Tournament Results
Tidal Wave won four of their five games including two in shoot-outs. The final game for Fifth Place was against Pasadena #1. The game ended in a 1-1 tie after one five-minute overtime. Tidal Wave then won the shoot-out 3 to 2 giving them a 2 to 1 victory.
Next Practice:Practice is over.
Coach: Dana Russell
Assistant Coach: Ellen Rich
Team Parent: Cindy Spock
Webmaster: Phil Ender
Referees: Victor Ake, Phil Ender, Andy Kopulsky, Tom Rice, Dana Russell, John Spock