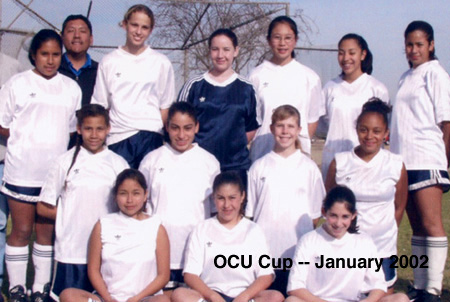 Welcome to the City Thunder web page for the 2002-2003 season.

City Thunder is one of ten teams in the City Soccer Club. In the Fall, we play in the Coast Soccer League and in the Spring, we play in tournaments.

Next Game:

High School Soccer Schedule:

After School Practice Can Begin -- Nov 16
1st Scrimmage -- Nov 25
1st Game -- Dec 2
Last Game -- Feb 14
CIF-SS Prelim -- Feb 19, 21, 25, 27, Mar 4
CIF-SS Finals -- Mar 8

Practices:


Practice Tuesdays & Thursdays at Lindberg Park.
Training is from 6:00 pm to 7:00 pm.

2002/2003 Team Dues: Attention Parents

$100 Team Dues are due in September.
$100 Team Dues are due in October.
Please see Tom or Kate to make payment arrangements.