Linear Statistical Models
Expected Means Squares Further Revealed
---
A Confession
The truth is that I simplified expected mean squares so that we could focus on making correctly formed F-ratios.
The fact of the matter is, that the notation for expected means squares changes depending upon whether a variable is a fixed variable or whether it is a random variable.
The notational system that was used, so far, in class is correct for random variables but not for fixed variables.
Fixed variables use the treatment effect squared divided by degrees of freedom.

A Completely Randomized Design with Variable A Random

A Completely Randomized Design with Variable A Fixed

A Completely Randomized Factorial Design with Variables A & B Random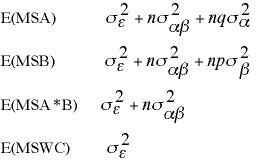 A Completely Randomized Factorial Design with Variables A & B Fixed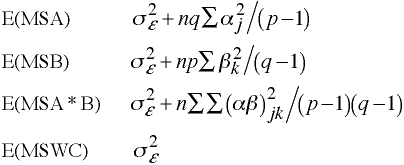 ---